Advertise
Juice Radio is a new and exciting radio station broadcasting on DAB+ digital radio across the North West, North Wales & West Yorkshire. We play today's best dance and yesterday's biggest throwbacks to a youthful, active and engaging listener who love looking good, socialising, enjoying events and nightlife and most importantly, have more free time with even more disposable income to spend on, enjoying life.
Our output is designed to keep listeners interactive and entertained. Our cool, credible and loud image keeps listeners engaged in Juice Radio.
We broadcast on DAB+ Digital Radio, Plus you can listen via the JUICE PLAYER on IOS and ANDROID, Across the UK on Smart Speaker plus listen live and replay all our shows via the ON-DEMAND section on the Juice Radio website.
Radio advertising works, It's alive and kicking, it's everywhere and, it's more affordable than you think. Our transmission area enables us to broadcast to a potential audience of 2.5 Million* adults (15-35) across the North West, North Wales & West Yorkshire.
Radio compliments other forms of advertising and gives you an opportunity to talk directly to potential customers. Hearing your latest offer or deal on radio builds trust and authority with your new potential customer base.
Radio advertising is totally bespoke around your business, no package is the same. Our experienced sales team work with you to create an impactive ad campaign to give you maximum exposure on air. From professionally produced audio adverts that make your business shine and pop out of the speakers to custom crafted sponsorship deals across the many stations shows, We have lot's of flexible options to get you on-air, sounding great and bringing in business.
Age 15 to 45 (55% Female, 41% female, 4% other)
Interested in looking good, gaming, live events, nightlife, sporting events, festivals and culture
More free time, More disposable income
Love fashion and trends and want to be part of the next big thing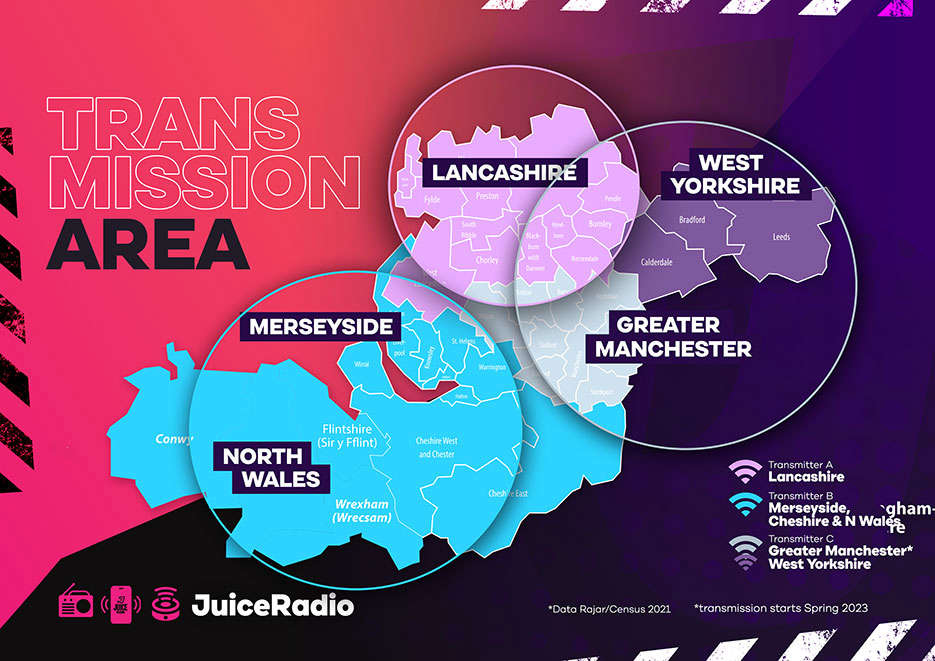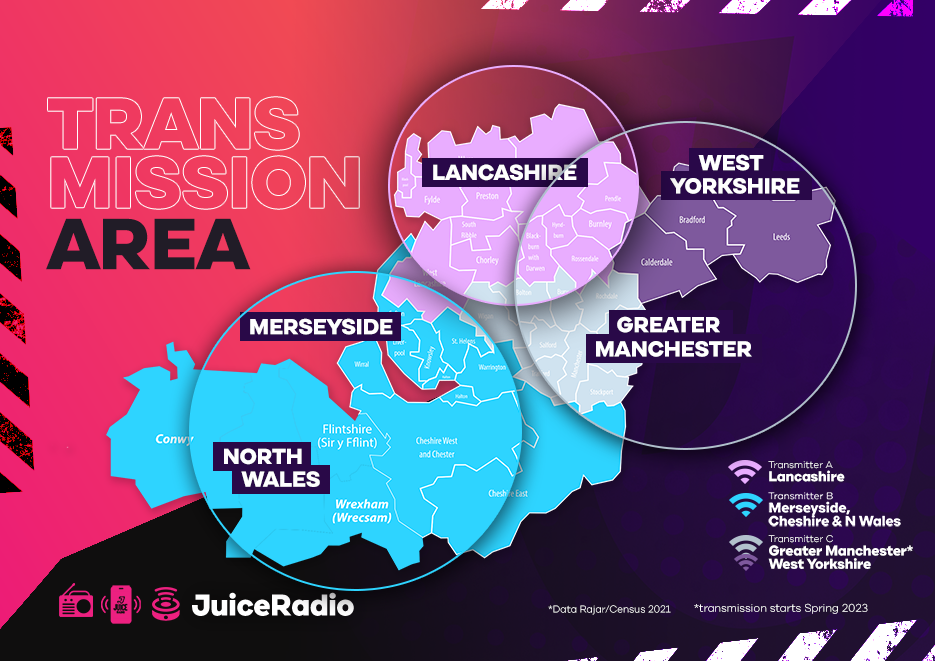 NOW is the time to boost business with radio advertising. Its time to exposure your business to new customers. Let's work together, Contact us today
Juice Radio Sales
(T) 01772 504 006
Or let us come back to you. Tell us all about YOU. It's time to make you sound great ON-AIR.
Blackpool

Heavy Rain

High: 8°C | Low: 6°C

Preston

Heavy Rain

High: 7°C | Low: 6°C

Leeds

Heavy Rain

High: 6°C | Low: 5°C